Death of Angolan man following violent deportation attempt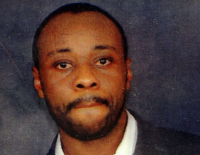 On 12th October 2010, 46-year-old Jimmy Mubenga was put on British Airways flight 77 from Heathrow to Luanda. He was accompanied by three security guards from G4S who, according to eyewitnesses, violently assaulted him while trying to 'restrain' him on board the plane. An ambulance was called to the airport and Jimmy was taken to Hillingdon Hospital but was pronounced dead on arrival.
Guardian coverage | Corporate Watch article | IRR report on deaths of migrants
In a statement, a spokesperson for London NoBorders said: "This is yet another example of the violence of border regimes. Every year hundreds of people are deported from Europe, often by physical force, to face uncertain futures and sometimes persecution and death. Meanwhile hundreds die trying to enter the EU."
Violence during deportations from Europe has been well documented and has been happening for many years. In 1998, for example, Semira Adamou died from suffocation during an attempt to deport her from Belgium. On 17th March this year, Alex Uzowulu died on a flight from Switzerland after police handcuffed him and placed a helmet on his head.
Category: