Metro's cage rattled by anti-racist spoof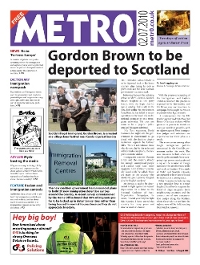 London commuters were surprised on Friday morning to find that their usual Metro paper was a bit thinner, yet more interesting and engaging, than usual. Tens of thousands of copies of a spoof newspaper that looked very similar to the free daily were distributed at 20 busy tube stations around the capital during rush hour. Thousands more were distributed in other cities around the country. >> report and pix
The Metro has obtained a High Court injunction against "all persons responsible for the publication and/or distribution" of a Metro spoof paper that was distributed by campaigners at London tube stations on Friday morning. But since the spoof was produced and distributed anonymously, the injunction seems to have been served upon the wrong people, in what appears to be a guilty-by-association verdict. >> press release
The 'spoofing operation' was part of Two Days of Action Against Racist Press, called by a coalition of anti-racist and migrant rights groups under the name Press Action.
Under the headline "Gordon Brown to be deported to Scotland," the front frontpage story claimed the former prime minister was facing imminent removal back to his "home country," as the new coalition government introduced new immigration rules that imposed further restrictions on "non-English nationals." Alongside the story, a manipulated picture showed Gordon Brown being arrested by two policemen at a beer festival in Cambridge.
Wearing a white T-shirt bearing the Metro logo and a blue baseball cap, one of the 50 or so distributors, who preferred to keep anonymous, said: "By replacing the word 'British' with 'English' when talking about 'British jobs' and the 'floods of illegal immigrants into Britain,' we hope people will realise how racist and absurd this rhetoric of immigration controls is."
In a witty attempt to highlight the racist and sexual violence experienced by immigration detainees at the hands of private 'detainee escorts', a fake advert claimed that G4S, the private security giant that runs a number of immigration detention centres in the UK and provides detainee escort services on behalf of the UK Border Agency, was looking for "strong men" to "escort women abroad."
The rest of the spoof paper featured a 60-Second interview with a real-life ex-detainee, a 'myth-buster' about asylum and immigration, an 'immigration newspeak' glossary, racist quotes from mainstream press and a couple of more in-depth articles on immigration controls and protests against them.
Many of those who picked up the paper initially seemed confused as to why the Metro had "shrunk." Realising it was a spoof, however, many commented that it was "very funny", "clever", "naughty" and "brilliant". Some even returned back and asked for more copies. Others, however, threw it away and wanted the thicker "real thing."
The Metro website has also been spoofed, with a layout similar to that of the paper's official website but with the spoof paper's content.
Category: